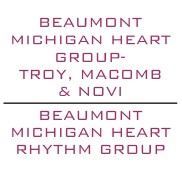 4550 Investment Drive
Suite 250
Troy, MI 48098
Phone:
(248) 267-5050
Fax:
(248) 267-5051
Physicians:
David R. Cragg, M.D., F.A.C.C.
Brian D.Williamson, M.D., F.A.C.C.
Ilana B Kutinsky, D.O., F.A.C.C.
Visit the Michigan Heart Group Website
About Michigan Heart Group
Michigan Heart Group was established in 1991 by David Cragg, M.D., and was soon joined by Steven Almany, M.D. The practice grew steadily with the addition of Steven Ajluni, M.D, William Devlin, M.D, and later Terry Bowers, M.D. Between 2002 and 2006 Michigan Heart Group added three more physicians, Brian Williamson, M.D, Ilana Kutinsky, D.O. and Michael Gallagher, M.D.. Both Drs. Kutinsky and Williamson specialize in electrophysiology, while Dr. Gallagher specializes in CT-angiograms. In 2015 the practice expanded again with the addition of Dr. Akhil Gulati who specializes in Interventional Cardiology and most recently Dr. Brian Renard joined Michigan Heart Group. Dr. Renard comes straight out of his Interventional fellowship and will entering a second fellowship in the summer 2020 specializing in the Watchman and TVAR procedures. These new additions help Michigan Heart Group become one of the most comprehensive practices in Southeast Michigan encompassing every aspect of cardiovascular health care, this side of surgery. We specialize in clinical, diagnostic, interventional cardiology, vascular medicine and electrophysiology.
Other Locations:
Michigan Heart Group – Macomb
15959 Hall Road, Suite 304
Macomb, MI 48044
Phone:
(248) 267-5050
Michigan Heart Group – Novi
39500 Ten Mile, Suite 103
Novi, MI 48275
Phone:
(248) 267-5050